All Brands, Healthy Snacks, Novo, Proteinbar, Top Selling
Novo Protein Roll Peanut Butter 33g Per Unit
THEQA Registered
Qatar's E-Commerce Trustmark
Cash on Delivery (COD)
Cash On Delivery Available
Card Payment Visa / Master
Pay by Debit / Credit Card
Secure Shopping
Your data is always protected
Availability:
11 in stock
11.00 QAR
11 in stock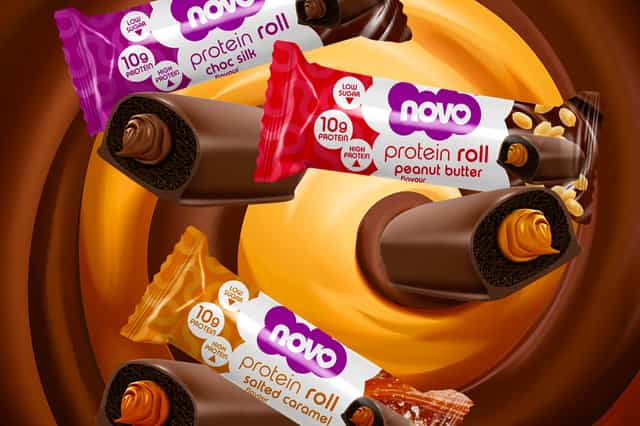 NOVO PROTEIN ROLL PEANUT BUTTER 33G
The NOVO Protein Roll is a delectable and nutritious snack designed to provide a convenient source of high-quality protein for individuals who are seeking a quick and satisfying option on-the-go. Crafted with utmost care and backed by scientific research, this protein roll is a popular choice among fitness enthusiasts, athletes, and those who prioritize their health and well-being.
The protein in the NOVO Protein Roll comes from high-quality sources such as whey protein isolate, which is known for its excellent bioavailability and digestibility. This ensures that your body can effectively absorb and utilize the protein, maximizing its benefits.
Vegetarian suitable
GMO-free
Directions Of Use
Warnings: Excessive consumption may cause a laxative effect
Nutrition facts might vary based on the flavour
Amount per 100 g
Amount per 33 g
Energy
1273 kJ
304 kcal
420 kJ

100 kcal

Fat
7.4g
2.5g
Of which saturated
4.8g
1.6g
Carbohydrates
34.1g
1.3g
Of which sugars
2.7g
0.9g
Of which polyols
27.4g
9g
Fiber
8.7g
2.9g
Protein
31.8g
10.5g
Salt
0.45g
0.15g
Other Ingredients: Protein Blend [Milk Protein Isolate, Hydrolyzed Wheat Protein, Soy Protein Isolate, Whey Protein Isolate (Emulsifier: Sunflower Lecithin)(Milk)], Couverture Milk Chocolate with Sweetener [Sweetener (Maltitol), Cocoa Butter, Whole Milk Powder, Cocoa Mass, Emulsifier: Lecithin (Soya), Natural Vanilla Flavoring], Chocolate Flavored Caramel Filling [Humectant (Glycerol), Maltodextrin, Oligofructose, Water, Bulking Agent (Maltitol), Coconut Oil, Modified Tapioca Starch, Skimmed Milk Powder, Cocoa Powder, Gelling Agent (Pectin), Acidity Regulator (Calcium Lactate), Emulsifier (Rapeseed Lecithin), Natural Flavorings, Salt, Thickener (Xanthan Gum), Color (Caramel)], Humectant (Glycerin], Soluble Tapioca Fiber, Sweetener [Maltitol Syrup, Sucralose], Water, Fat-Reduced Cocoa Powder.

May contain traces of molluscs, crustaceans, eggs, fish, peanuts, nuts, celery, mustard, sesame seeds, lupin,.